IP 68 Weatherproof & Waterproof Brass Cable Glands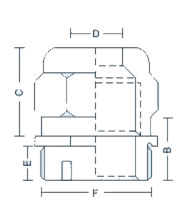 Standard
BS6121: 1989, DIN-46320/46255
Application
Suitable for all type of unarmoured plastic or rubber sheathed cables in indoor as well as outdoor installations.
Feature
With Vibration Lock and Strain Relief Protection Class IP 68 ?5 Bar.
Ingress Protection
IP65
Material
Nickel Plated Brass
Insert
Polyamide - 6
Seals
Neoprene
O - Ring
Perbunan
Plating Option
Chrome Finish, Brass Finish, Nickel Finish or as specified
Temperature Range
-30? to +90?
Ordering Code
(Gland Type / Size & Entry Thread Size), e.g. PG 36
Technical Data
| | | |
| --- | --- | --- |
| Part No. | Clamping Range | Thread Length (in mm) |
| PG-7 | 2-6.50 | 6.00 |
| PG-9 | 3-8.00 | 6.00 |
| PG-11 | 4-10.00 | 6.00 |
| PG-13.5 | 5-12.00 | 8.00 |
| PG-16 | 8-14.00 | 8.00 |
| PG-21 | 11-18.00 | 8.00 |
| PG-29 | 16-25.00 | 9.00 |
| PG-36 | 20-30.00 | 9.00 |
| PG-42 | 28-38.00 | 12.00 |
| PG-48 | 34-44.00 | 12.00 |
| M12 | 2-6.50 | 6.00 |
| M16 | 3-8.00 | 6.00 |
| M20 | 5-12.00 | 8.00 |
| M25 | 11-18.00 | 8.00 |
| M32 | 12-21.00 | 8.00 |
| M40 | 18-27.00 | 9.00 |
| M50 | 27-33.00 | 9.00 |
| M63 | 34-48.00 | 12.00 |